Our mission is to help improve the quality of life for the poor and disadvantaged people of the world, and to assist the victims of natural and human caused disasters.
We believe that the best assistance is that which encourages and enables all people to develop themselves. Hence we help individuals and communities to harness their own resources for securing the basic necessities of life and for gaining greater economic, social and spiritual fulfilment, while respecting their customs, language, and religious beliefs. Since early 1960's we have been developing schools to provide education for people in necessitous circumstances.
AMURT (Ananda Marga Universal Relief Team) is one of the few private international voluntary organizations founded in India. Since its inception in 1965 its original objective was to help meet the needs of the affected population after disasters that regularly hit the Indian sub-continent. Over the years AMURT has established teams in thirty-four countries, to create a network that can meet disaster and development needs almost anywhere in the world. In 1985 we broadened our goals to include long-term development. We feel that we can play a useful role in helping vulnerable communities break the cycle of poverty and gain greater control over their lives.
AMURTEL (Ananda Marga Universal Relief Team- Ladies) was founded in 1975  and is fully managed by women. It was established to respond specifically to the needs of women and children during disasters and in development. AMURTEL works with women around the world to help build solutions for them to gain greater self-sufficiency and economic independence. This in turn helps to raise the standard of health and education of women, their children and the communities they live in.
For us, development is human exchange: people sharing wisdom, knowledge and experience to build a better world.
"It is action that makes a person great. Be great by your sadhana [spiritual practice], by your service, and by your sacrifice."
Shrii Shrii Anandamurti 
For more information, please visit these important sites:
Relief Work – Social Projects
Neo-Humanist Schools

Social Service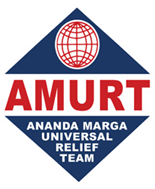 PCAP & Environment

Global Connection