Women Building Community Conference
JOIN US FOR A DAY OF INSPIRATION, LEARNING & FUN !
Saturday 14th November 2015
9.30am – 4pm
Edinburgh Gardens Community Room, North Fitzroy Vic
Cost: $50. (concession $45.)
Contact:  anandashamita@gmail.com  mobile 0434253611 or 0413059992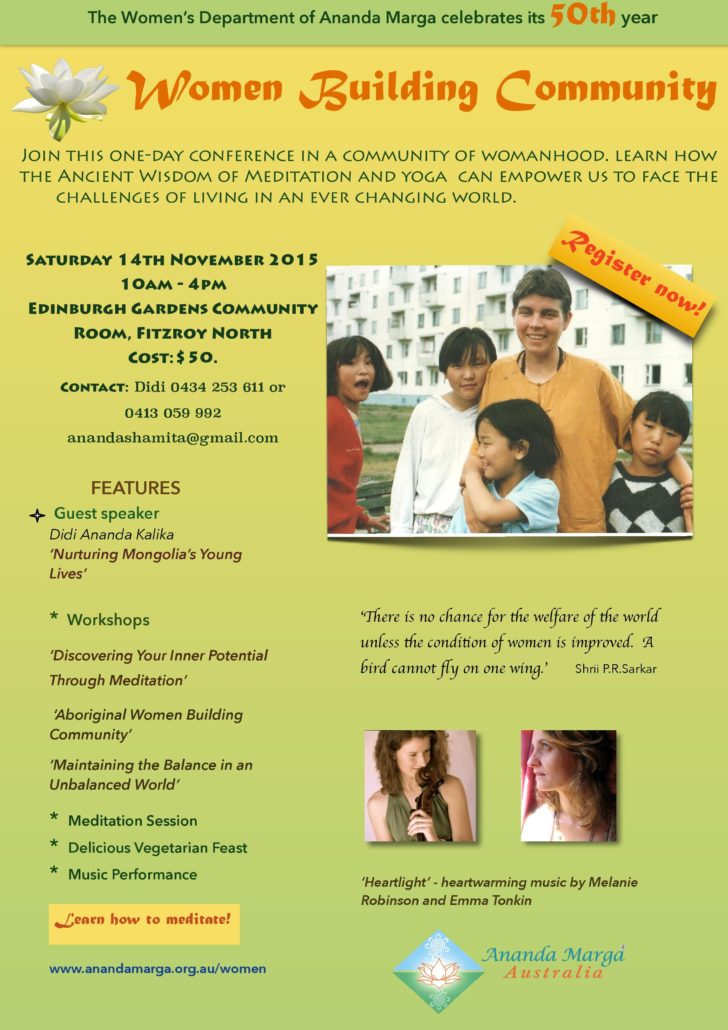 This one day event brings women together for a day of inspiration, learning and fun.
Celebrate the first 50 years of WWD with the gathering of vibrant women.  Meet women who have dedicated their lives to help improve the lives of some of the most destitute women and children on this earth.
This gathering is an opportunity to:
Share the experiences of women who have been practicing meditation and yoga for decades
Learn the ancient wisdom of indigenous women in building community
Acquire tools to help maintain the balance in these rapidly changing times
Network with other women and be involved in inspiring conversations
Take time out of a busy life to enjoy a delicious vegetarian feast that is good for the body and mind; and heart warming music for the soul!
Check the Google Map for the best directions ====>